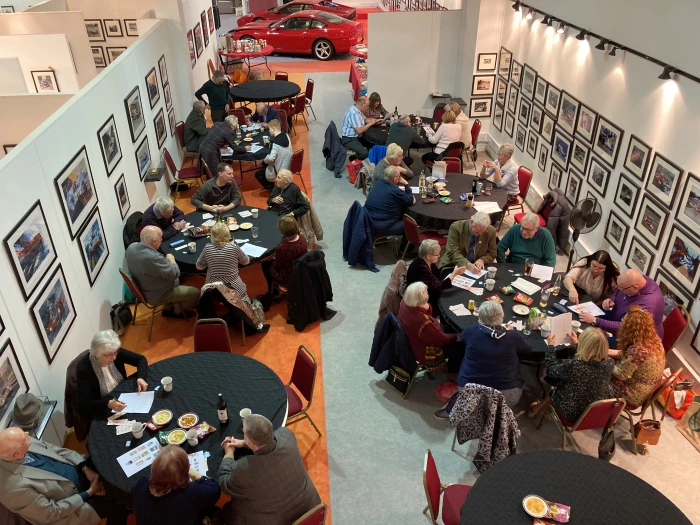 After the past couple of years with lockdown etc. It was great to be able to meet up at our annual social evening.
The event was held at the 'Swift Gallery' and was an evening enjoyed by everyone.
As part of our social evening we sponsor a charity chosen by the members. This year we chose to support the UHNM – University Hospitals of North Midlands
A challenge was put out to the members to make some wig stands, and as you can see the members rose to the challenge.
These were donated to the Fresh Hair Wigs & Wellbeing a unique facility within the cancer centre, who help women cope with the cosmetic side effects of chemotherapy, radiotherapy and alopecia.
We also raised £125.00 on the night which was donated to the UNHM Charity
UHNM Charity – Comment
A big thank you to Staffordshire & South Cheshire Woodturners Association who have very kindly made and donated 30 hat stands to Fresh Hair Wigs & Wellbeing .
The stands will be used for display purposes at both the Royal Stoke and County salons.
Terry Johnson from the Woodturning Association said: "The idea for this originally came from a woodturning group in Canada, and we thought it would be a good challenge. The first few were quite difficult but it was a good experience for all involved."
"Unfortunately a lot of people either suffer from cancer or have a family member or friend who does, and we wanted to do something that would put a smile on people's faces and give something back."
Gaynor Muir, Fresh Hair Salon Manager said: "We're very grateful to the Association for the time and skill which has gone into making these beautiful stands. They'll add an organic element to the salons being a natural product and work really well. They're incredibly tactile and will be appreciated by both staff and patients."
The UHNM Charity-supported Fresh Hair Wig and Beauty Salons at the Royal Stoke University and County Hospitals see 650 patients a year suffering from hair loss through illness or cancer treatment.